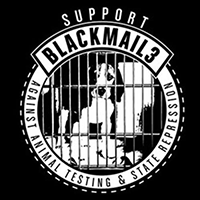 Circa un anno fa usciva il progetto 'Shac Made History', un contributo finalizzato a generare consapevolezza riguardo a quella che tutt'ora resta una delle piu' significative campagne per la liberazione animale, la campagna SHAC, ed alla sua storia.
Un progetto che voleva, sopratttutto, riuscire a ribadire l'importanza fondamentale della solidarietà attiva come parte essenziale di ogni percorso di lotta, riaffermando la necessita' di un supporto efficace ed organizzato a coloro che, nel corso degli ultimi anni, hanno pagato direttamente il prezzo dei successi che la campagna ha ottenuto con anni di carcere e pesanti restrizioni.
A distanza di qualche tempo dalla pubblicazione e considerando alcuni fattori, primo tra i quali il fatto che la repressione contro chi ha fatto parte della campagna, purtroppo, e' ben lontana dal potersi considerare conclusa, alcune delle persone che hanno contribuito al progetto ha deciso di ripartire dal lavoro fatto per dare un seguito a ' Shac Made History'.
Una versione aggiornata dell'opuscolo, con aggiornamenti relativi ai recenti sviluppi nei casi 'Blackmail 3′ e 'SOCPA 7′
e' stata pubblicata. Il blog iniziera' ad essere aggiornato regolarmente con notizie riguardo ai processi in corso, traduzioni di lettere e messaggi dei*lle compagn* in carcere, comunicazioni provenienti dalle campagne di supporto in Inghilterra.
Abbiamo creato una Newsletter dedicata, alla quale e' possibile iscriversi inviandoci una mail a shacmadehistory@inventati.org, attraverso la quale verranno diffuse le informazioni.
Il progetto è aperto ai contributi di tutti /e: chi ha voglia di aiutarci diffondendo l'opuscolo, organizzando serate informative o altre iniziative non ha che da contattarci alla mail sopra indicata.
Solidarietà e supporto a chi è stato colpito /a dalla repressione per non essersi rassegnato /a ed aver continuato a lottare. La solidarietà resta la nostra migliore arma!
'Shac Made History'
shacmadehistory.noblogs.org
Almost one year ago the 'Shac Made History' project has been published. A contribution aimed mainly to raise awareness about one of the most meaningful animal liberation campaigns, the SHAC campaign, and about its history.
A project that wanted, first of all, to reinstate the fundamental importance of active solidarity as an essential part of every struggle, reaffirming the necessity of an effective and organized support to those who throughout all these years payed directly the price of the successes that the campaign obtained with years of imprisonment and heavy restrictions.
Some time after the publication has been released and considering some factors, first of which the fact that repression against those involved in the campaign is unfortunately far from being over, some of the people that worked on this project decided to start again from what has been done, to give a follow up to 'Shac Made History'.
A version of the booklet with updates concerning the recent developments in the 'Blackmail 3′ and 'SOCPA 7′ cases has been published. The blog will be regularly updated with news about the ongoing trials, translations of the letters and the messages from imprisoned comrades and communications coming from the support campaigns in England.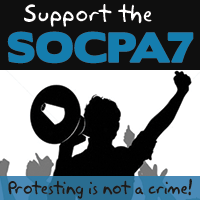 We created a Newsletter: it's possible to subscribe to it sending us an email to shacmadehistory@inventati.org, we'll use to spread infos and action alerts.
The project is open to the contributions of everybody: if you want to spread the booklet around, organize info nights or other actions please get in touch.
Solidarity and support to those who have been hit by repression because they did not give in and kept on fighting. Solidarity is still our best weapon!
'Shac Made History'
shacmadehistory.noblogs.org